Linux Re:boost
Dated: 11/11/2014
Linux Re:boost
To celebrate the power of Linux, we cordially invite you to attend Mazadah's first event in Jordan in collaboration with Jordan Open Source Association. We have brought our regionally recognized team of Linux Experts to share their knowledge & experiences; a roster of 4 Red Hat Certified Architects along with our guest Linux superstar Mr. Florian Brand of Red Hat, Inc. coming all the way from Germany.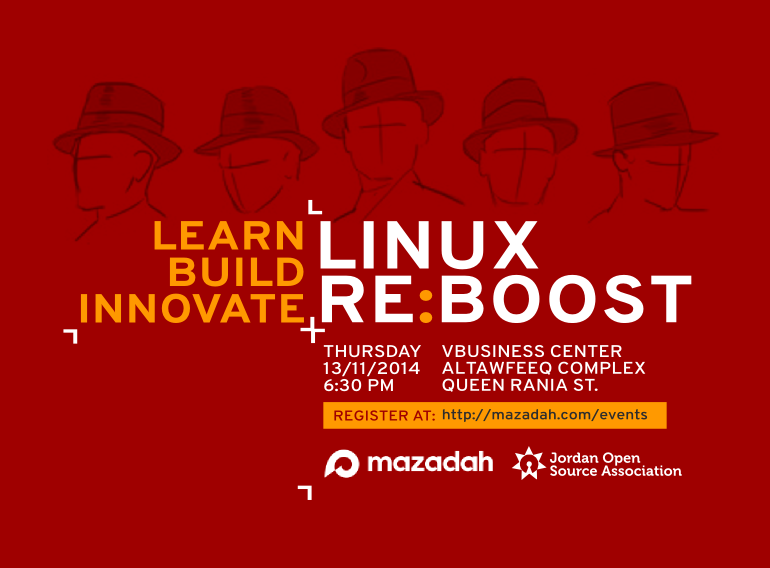 Topics
Hybrid Clouds
Logging
Scalable Storage
Platform without boundaries
RHEL 7
Speakers
Mohamed Maraghy
Muslim Abu Taha
Mohammad Farra
Mostafa Hamouda
Florian Brand
About Mazadah
Mazadah is an award-winning professional services and training company specialized in Red Hat Enterprise Linux & IT Infrastructure Solutions. Our goal is to enable businesses to maximize their capacities and potentials through developing their most valuable assets: Talent & Collective Knowledge.
About Jordan Open Source Association
A Jordanian nonprofit organization that promotes Free Culture, Free Software and the open source movement.
Contact:
Kanaan Manasrah / Senior Business Developer
Cell:  +962 (79) 74 65 607 | Email: kanaan@mazadah.com